Broadway to Pavarotti Showcase tour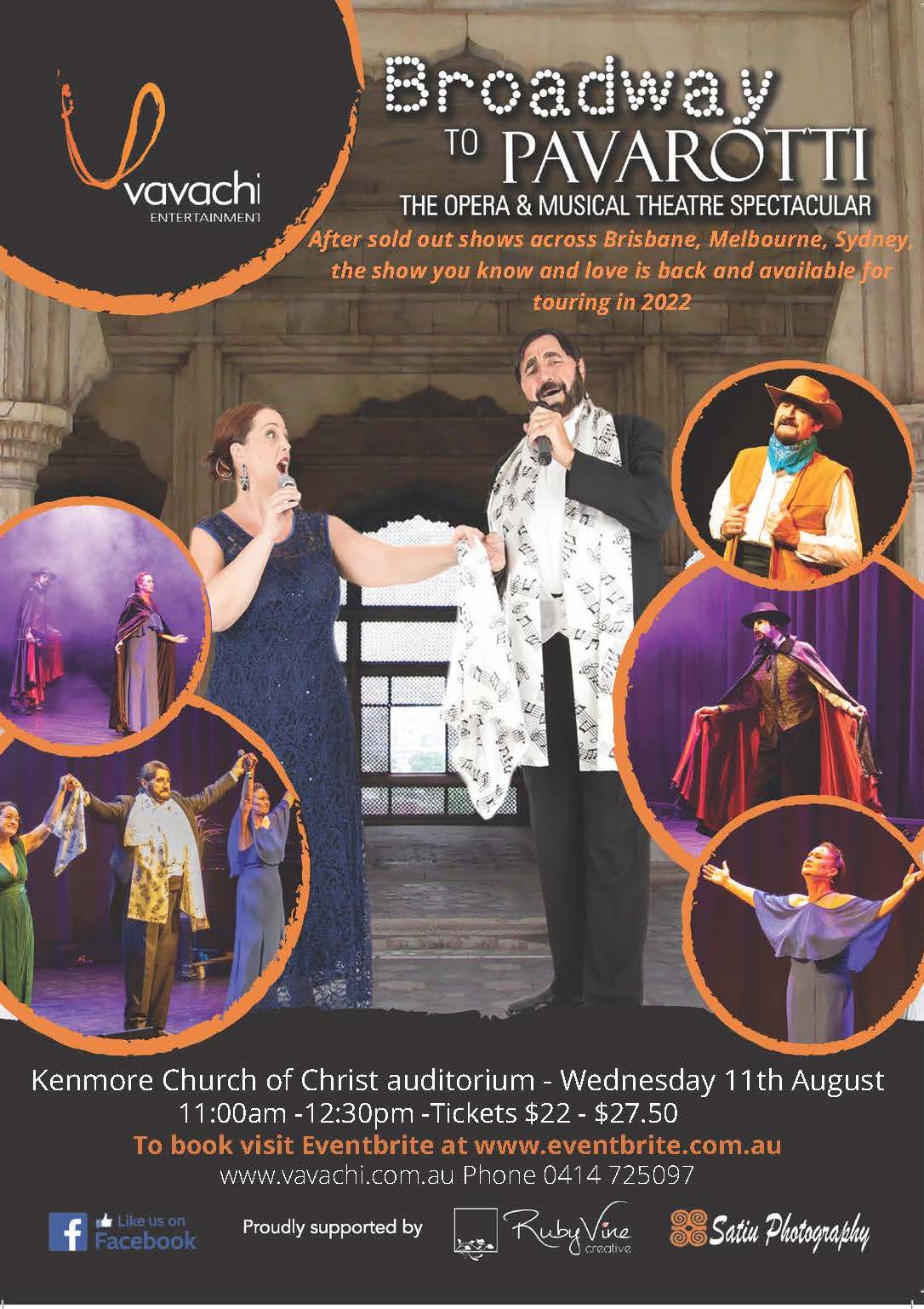 Following successful seasons and standing ovations in theatres from Melbourne to Sydney, the Gold Coast to Sunshine Coast and beyond, this unique crossover show is an unparalleled tribute to the greatest opera singer of our time and the quintessential sound of the Great White Way.
The concert celebrates the great Luciano Pavarotti – the man, the music and his unique style in all its glamorous, glorious magic. Packaged together with a touch of romance and comedy, the show is a perfect combination of heart, humour and great music. Broadway to Pavarotti was created by and stars Roger Davy, a founding member of the Ten Tenors who has decades of international concert experience and is renowned for his tribute to "The Big Man". The production also features two world-class female vocalists who will leave audiences spellbound through their interpretation of popular melodies from Opera, Operetta, Popera and of course, Broadway. Expect recognisable and show- stopping Pavarotti hits like Nessun Dorma plus beloved selections from Andrea Bocelli and Sarah Brightman including The Prayer and Time to Say Goodbye along with the best of Broadway and celebrations of shows like West Side Story, Oklahoma, Carousel and Phantom of the Opera.
Reviews: What people are saying:
"Vavachi Entertainment's tribute to classic musicals and opera greats has everything live theatre should – romance, charm and glamour. Through these themes, the production could connect songs, stories and facts about each period. For light-hearted, sweet-sounding fun, 'Broadway to Pavarotti' is a masterclass in musicality!"
"In a delightful combination of songs from classic musicals and opera's greatest scores, the production took audiences on a trip down memory lane, with plenty of heartfelt moments at every musical note."
"Reliving the golden days of Rogers and Hammerstein and Andrew Lloyd Webber, there was a great sense of nostalgia in the theatre with well-chosen, rousing songs."
"Certainly, the main event was Roger Davy's impersonation of Luciano Pavarotti, which sent chills through the audience with quintessential songs 'O Solo Mio' and 'La Donna Mobile'. Davy's larger than life characterisation was a joy to witness. Audience members could tell this was his favourite part of the show and his enjoyment resonated throughout the theatre."
"What's more, the sounds of the show supported the performers completely. Even though instrumental tracks were used instead of a live orchestra, the focus was drawn to the performers, with the music simply there to let their vocals shine."