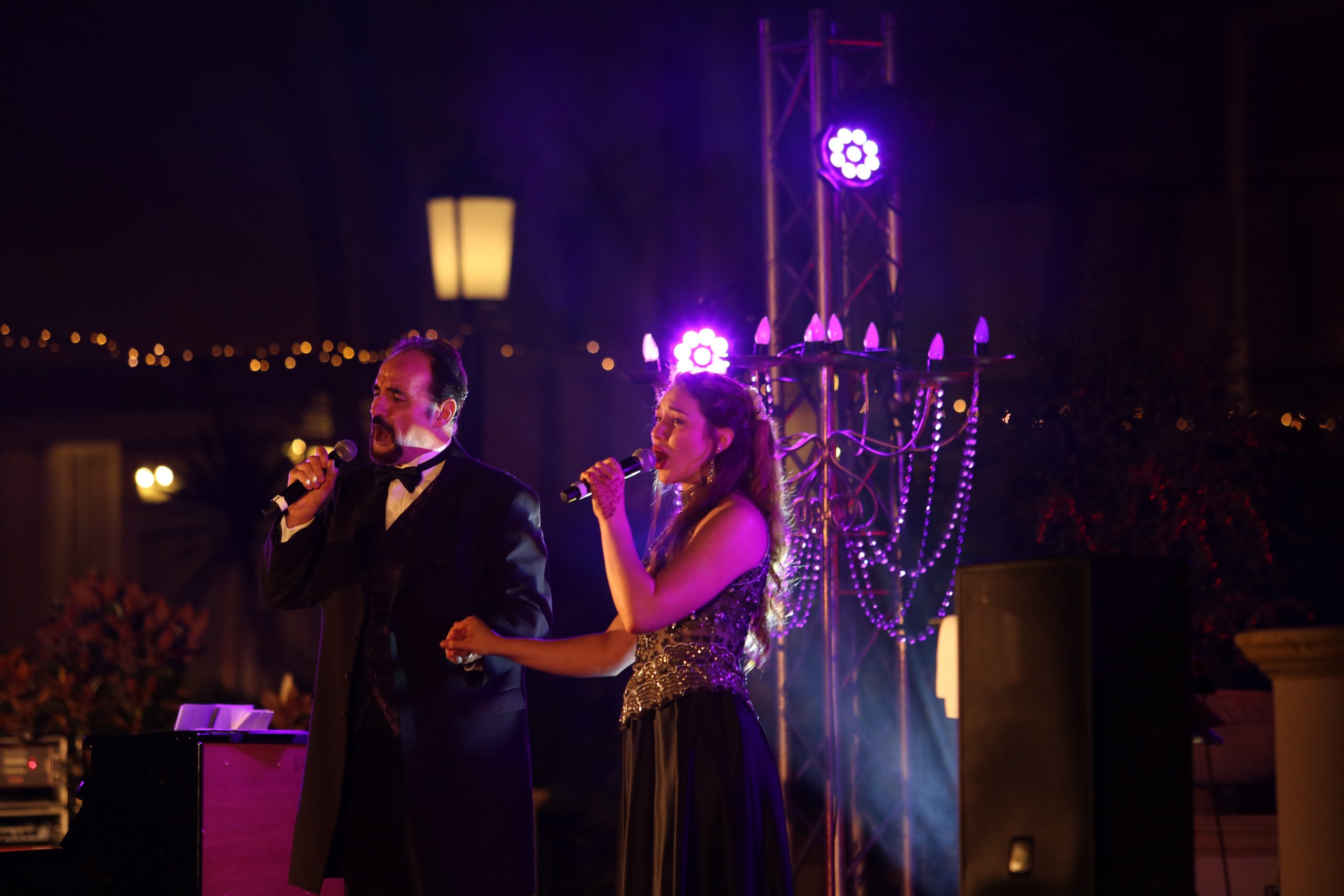 VAVACHI SHOWCASE
Opera Under The Stars
Music Opera
VAVACHI SHOWCASE
VAVACHI SHOWCASE
Opera Under The Stars
Romantica
Vavachi Entertainment presents Arias on the Green program "Romantica". Young lovers or the young at heart will delight in arias from the romantic cities of Europe. Let your heart be taken you on a journey of love through music.
A magical evening of your favourite love songs from Broadway shows and operas featuring songs from La Traviata, La Boheme, Tosca, The Merry Widow and Phantom of the Opera.The cast for this spectacular evening of entertainment featured Australian & International performers. The audience enjoyed a fully choreographed, show stopping performance under the stars, it was spectacular.
fully inclusive performance package
For over 10 years, Vavachi Entertainment has enthralled tens of thousands of people from all walks of life on stages, sand dunes, under lights and under the stars of the Australian skies.
With our theme, "More than Memorable", we offer audiences an unforgettable evening of music and song a true experience. Vavachi entertainment's vision for these performances is to "provide a platform for young Queensland singers to develop and gain invaluable artistic experience". This is their time to showcase their talents and form a launchpad for their musical careers.
Roger Davy, the creator of Vavachi Entertainment and a former founding member of the Ten Tenors, has been fortunate to follow his true passion in the world of entertainment. Through this exposure, Roger has been able to assemble the finest group of performers and solo artists in their own right, for everyone to enjoy. Each artist brings to every performance, inspiration, passion, outstanding vocal ability and each has their own unique personality.
ability and each has their own unique personality.
The professional Vavachi team provides not only outstanding performers, but a total performance package including event management, stage, lighting and sound, programming and peripheral event items.
At Vavachi, we pride ourselves on service excellence, professionalism and dedication to create the ultimate experience for your community.
From Ballina to Birdsville, Vavachi aims to take the "music to the people" using a combination of popular musical theatre through to traditional classic opera favorites. The "Opera in the Park" experience continues to be enjoyed by tens of thousands of people. To give an indication of audience reach we can offer for potential sponsors, here is a snapshot of venues and events we have delivered on.
Opera on Broadbeach Gold Coast, 2004,2005,2006
Opera on the Mountain, Cedar Creek Winery Mt Tambourine, 2005
Opera on Kings, Sunshine Coast, 2004,2005,2006 ,2007,2008,2009,2010,2011
Music beneath the Stars for Ormiston House Cleveland 2007,2008
Speed on Tweed Festival Murwillumbah NSW 2007, 2008
Speed on Tweed Festival Murwillumbah NSW 2007, 2008
Opera in the Park for Salt Village Kingscliff NSW 2006, 2007, 2008, 2009
Music under the Stars Sanctuary Cove 2010
Christmas Carol Carnival Varsity Lakes Gold Coast 2007, 2008
Vavachi entertainment looks forward to making your night
"Step right up, under the sweet starlight of natures big top at Links Hope Island and experience the wonders of the circus. Witness the wonder of marvellous acrobatics, seductive song and enchanting dance as we tell a tale of love, the hopeless romance of an unlikely hero, the clown".Come closer, you simply won't believe your eyes! You are in for a night of miraculous entertainment underscored by beautiful music from opera, film, stage and beyond.
Packages can include:
Create 2 x 45/50 minutes program with 20-30-minute interval.
Supply up to 5 premium vocalists: (subject to availability) TBA.
Pianist and keyboard supplied.
 Stage Management, Artistic and Event direction.
Supply Premium Sound, Lighting: up to 3000 people (AISLE SIX Productions) Program & Script Master of Ceremonies/Sponsors information.
Organise and Coordinate all performer rehearsals in a lead to the event.
CD Production music and sheet music pertaining to production.
Research and prepare stage/blocking methods for show programmer.
Direct, Produce and Choreograph rehearsals and sound check on the day of the event.
Professional staging hire.
Final show program upon acceptance of the quote.
Food and Beverage (for performers & crew).
Dressing Room Chairs, Tables etc.
Costume Hire Fees (Semi staged music pieces may incur an additional fee).
Supply Public Liability Cover ($20,000,000).
Vavachi insurance for performers.
Event Security (For events over 2000 people).
Book Now
One-of-a-kind events, brought to you by professional singers, instrumentalists and artists.